I will be exhibiting a few of my charcoal drawings at the AmBank Invitational Art Show and Sale in Provo, Utah. The show runs from November 14th, 2014 to January 9th, 2015.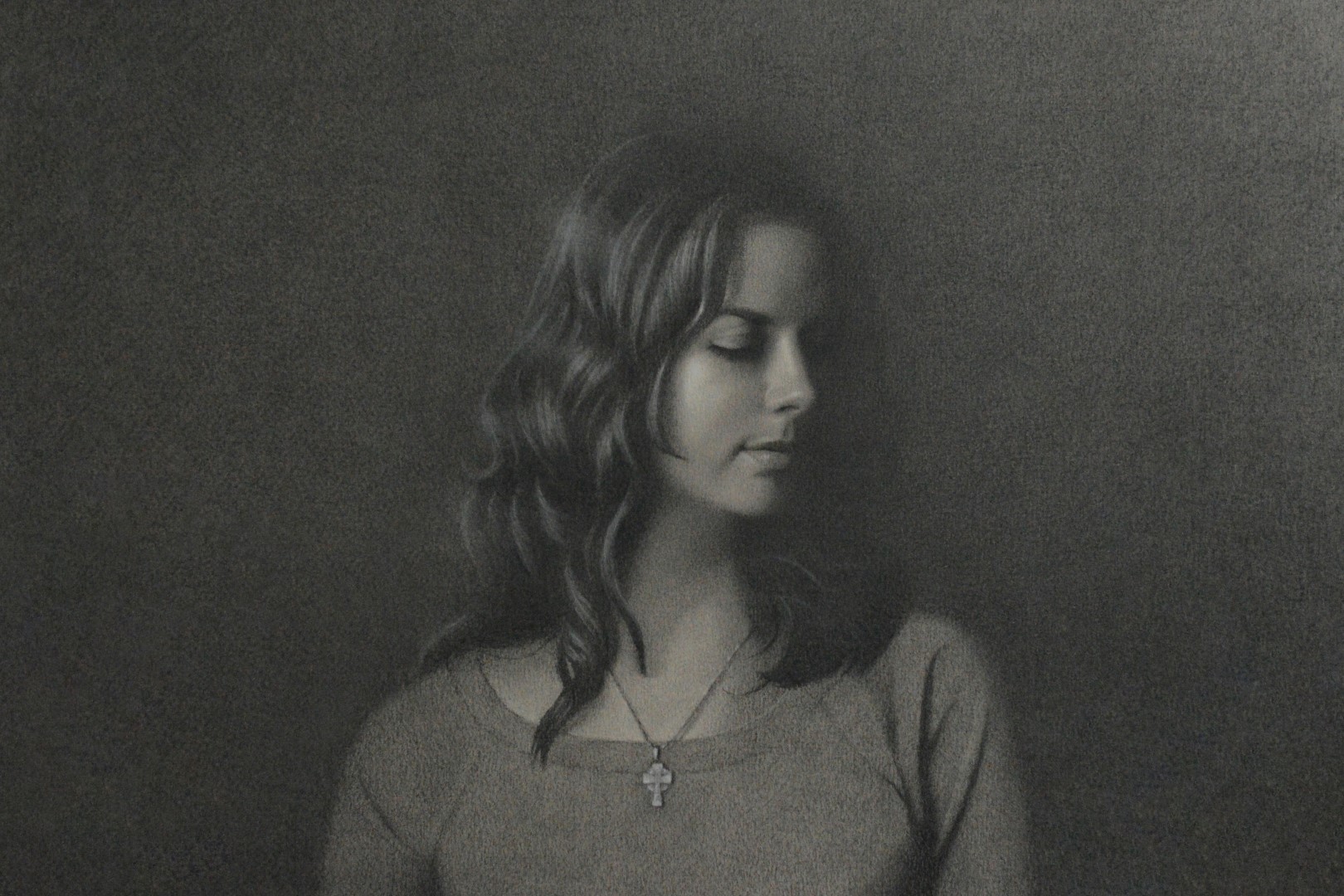 For any followers who would like to come who do not reside in Utah an easy breezy $500 flight will get you here in time for the opening reception this evening.
When I was invited to participate in the show around the end of October, I was polishing up these two pieces. However, I thought it would just look so much more balanced and unified and awesome if I could get a third drawing done to bring them all together.
So, with ten days until I needed to deliver my work, that's what I decided to do. Here are some progress shots of the third portrait. To preface, all art goes through some serious ugly phases so don't be surprised if you unwittingly make this face:
It's quite alright if you do, you won't hurt my feelings. Unless of course you continue to make this face when you see the end result. Then I will have to crawl into bed and curl up in the fetal position to waste away, using said drawing as a giant tissue to catch my blubbering crocodile tears.
I work on toned paper, preferably Canson's Mi-Teintes Pastel paper. There are two sides to this paper, more textured and smooth. I work on the smooth side. Even though the paper is toned, I still add a layer of powdered charcoal and smooth it with a brush, tissue, or charcoal sock.
I lay in the block-in using vine charcoal as it wipes away easily when I make mistakes. Vine charcoal also has a lovely muted effect when blended.
When it's time to lay in values I start with a 2B and work my way up to a 6B for the richest, darkest blacks. I also use white chalk to heighten the drawing. White chalk really encourages the illusion of dimension and creates an illuminated effect which is what I strive for in my portraits, almost as if the light is stirring from within the sitter.
Here's a closeup of my initial mark making:
So. I was supposed to drop off my work on a Monday before 5 PM. On the Friday prior, Bryan and I were taking our church teens to a youth rally in Logan, about two hours away. I was nowhere near finished, so my drawing supplies came with me and I spent the majority of the weekend holed up in a tiny, dimly lit hotel room scribbling away and imagining errors that were not there and of course wasting lots of time trying to fix said imaginary errors. I wondered if this was what it felt like working in a dark and dismal French atelier in the 19th century drawing by candelabra.
I didn't get the drawing quite to the polished effect that I like, but by 4:20 PM on Monday this is where I decided to pause: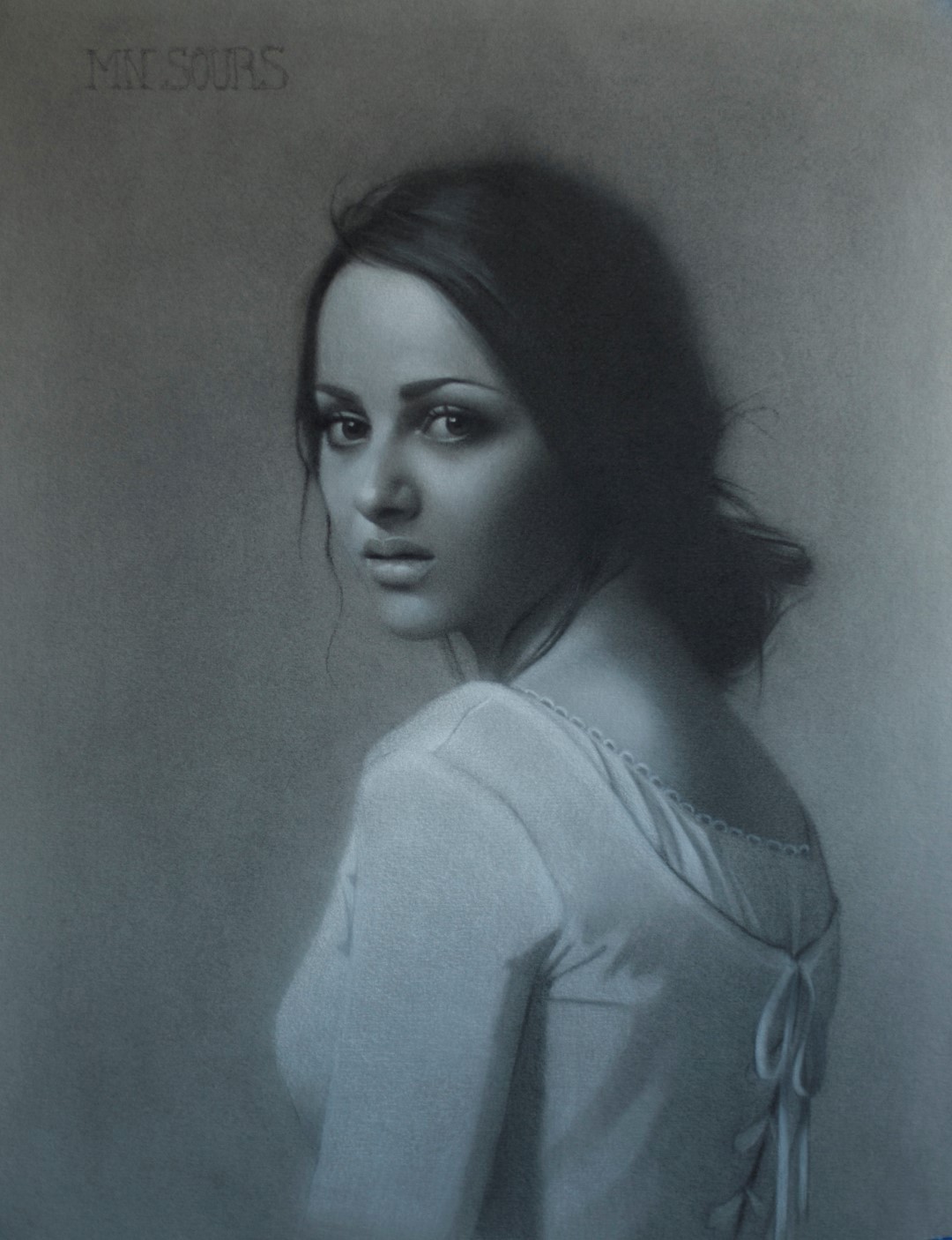 That left only 40 minutes to speed (abiding by city limits, of course) to pick up Bryan from work (I may or may not have gotten slightly surly by the surprising number of elderly drivers on the roads at 4:30 in the afternoon) to book it to the studio to frame my portrait (it would've gone so much faster if it wasn't for the blizzard of dust sticking to the glass in the frame, ugh!) and to jump back in the car with all of the framed drawings while Bryan finished framing the third (even though he dropped all of his tools in the grass on the way to the car and got the frame stuck in the car door. Miraculously it did not scratch or crack). We inevitably got there late, but make it we did. I was still shaking from the trauma of the experience the following morning.
Back in art school our instructors advised it's always a good idea to have a story behind each piece for prospective buyers. I would probably proceed to describe the outer and inward beauty of my sitter (who truly is a remarkable young woman), but secretly I would be thinking of this story. But frankly, as absurd as it all sounds, this stuff, to an artist, is a perfectly normal and expected part of her day.